2.6 seconds.
According to web design research conducted at Missouri University of Science and Technology, that's all the time your website has to make a good first impression.
It's a tiny but significant difference between converting your site's traffic into cash and kissing your visitors (and profit) goodbye.
As Internet marketers who have built sites and blogs using WordPress, we all have explored plenty of themes and plugins to make them look professionally good at least.
But the reality is professional themes can cost from around $47 to $197 EACH! Engaging a blog designer to custom-design themes can set you back 2 or 3 times more.
If you are building sites for clients, this is probably not an issue if you can tactfully mark up prices, but I want to show you a much cheaper alternative in which you can own a decent usable library of professional themes worth thousands of dollars for one low price.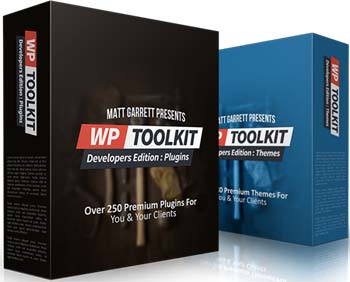 With WP Toolkit, you get 380 premium themes, over 250 premium plugins and 200+ WooCommerce extensions, pushing the total value included well in to 5 figures!
You also own a developer rights license, so you can use ALL of these themes on as many of your own sites as you want AND as many of your clients' sites as you want, AND on sites that you 'flip' for a profit…
Access WP Toolkit before it reverts back to annual subscription.
Related Posts: