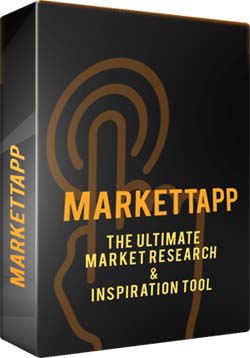 Have you ever asked yourself, "Which niche should I go into?"
Don't know the best possible tools and ways to discover a profitable niche?
Time is money…
Wasted time is wasted money…
When you can leverage someone else's hard work and the right tools, it speeds everything up!
MarketTapp is a niche database and research software containing nearly 15,000 curated niches, all broken down into market categories, niches, micro-niches. Its "Keyword Exploration" interface, when connected directly, pulls suggested phrases.
It connects to Facebook, so Groups and Pages are revealed for a niche topic, to Twitter for the keyword-based conversation there, and to Reddit to show related channels.
The point—and POWER—of MarketTapp is the ability to brainstorm a niche idea, drill down into it, find related keywords, find the audience, and take action!