Do you or your clients wake up every day already overwhelmed?
Are you drowning in almost-but-not-quite-done projects?
Are you looking for something to save your sanity and your bank account?
Investing just a bit of time into streamlining your business now can have benefits not only on your pocket book, but on your health and business vision too, for years to come.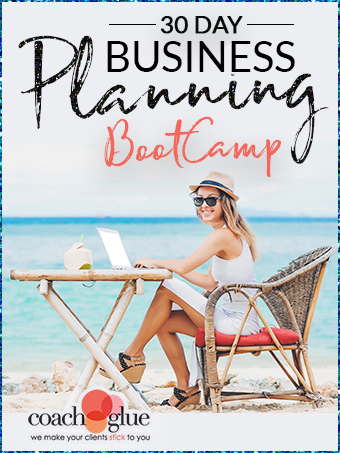 CoachGlue's brand new workshop material "30 Day Business Planning Bootcamp" can help.
Take the material and quickly and easily put together an awesome program/bootcamp/e-course for your clients that they'll love!
Altogether, you receive 4 Training Modules + 4 Fast Action Plan Worksheets & Exercises + 4 Program Accelerator Checklists + 4 Sets of PowerPoint Slides in order to deliver a value-packed program for your clients.
Module 1: Say Goodbye to Distractions + Get Back Into Your Creative Flow
Module 2: How to Let Go of Costly Burdens to Create a More Profitable, Streamlined Business
Module 3: How Optimizing + Leveraging Your Existing Resources Can Result in a Positive Cash Flow
Module 4: Apply These Simple Tweaks to Take Your Business to a Whole New Level
You can head over to the promotion page and discover what content the 4 modules consist of.
The important thing to note is all the hard work has been done for you! You don't have to invest hours and hours of your own time into developing a workshop program, and you don't have to pay thousands of dollars to hire people to help you. Investing in CoachGlue's low-cost coaching workshop material saves a ton of time, energy and money!
Grab it for a discounted price at $77. You'll get everything you see listed above. Use coupon code '77' on checkout and save $220 off the regular price.