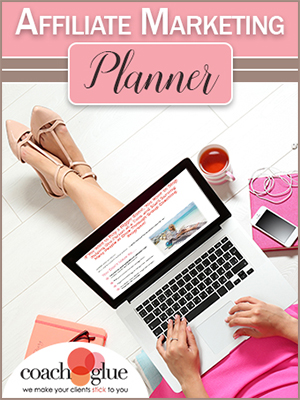 CoachGlue just released the brand new Affiliate Marketing Planner to help you and your clients add more income streams to any business.
You have permission to edit, put your business logo and name on, and sell or give away to your clients/customers/members.
In it you'll discover:
Step 1: Set Up the Infrastructure
Exercise: Plan for the Future
Step 2: Start with the Products You Use and Love
Exercise: Find and Sign Up for Affiliate Programs
Step 3: Research Complementary Products
Exercise: Brainstorm Complementary Products and Apply to Their Affiliate Programs
Step 4: Consider the Competition
Exercise: Scope Out Your Competition's Affiliate Offers
Step 5: Other Tools and Resources
Exercise: Brainstorm Physical Products
Exercise: Register for the Appropriate Affiliate Programs
Step 6: Incorporating Affiliate Marketing in Your Social Media Outreach
Exercise: Add Affiliate Promotions to Your Social Media Calendar
Step 7: Blogging and Affiliate Marketing: The Perfect Match
Exercise: Create a List of Products to Review
Exercise: Create a List of Products for Your Resources Page
Step 8: Your Products and Coaching Programs
Exercise: Map Your Products and Relevant Promotions
Step 9: Review Your Autoresponder Series for Opportunities
Exercise: Map Your Autoresponders and Relevant Promotions
Step 10: Create Canned Responses in Your E-mail or Help Desk (For Those Looking for Products You Don't Sell)
Exercise: List Your Most Frequent Questions and Relevant Affiliate Promotions
Step 11: Track, Test & Tweak
Exercise: Create Your Tracking Sheet
49% discount is good until February 28th!