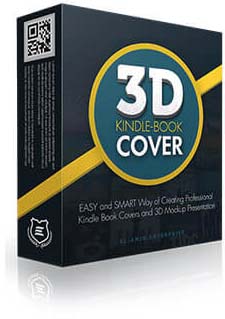 My favourite designer (Maghfur Amin) has released his first edition of 3D cover graphics package called "3D Kindle Book Covers".
3D Kindle Book Cover is a comprehensive collection of Professional and High Quality 3D Cover Designs made from Kindle e-book flat cover images as a basis.
But there's more to the collection:
– Brand-New of 20+ 3D-style cover mockup
– Brand-New of 50+ Premium Kindle Book Cover Templates
– Brand-New of 30+ Complementary 3D Covers (Box, Laptop, Tablet)
– Create professional-looking 3D eBook/Kindle Covers in minutes
– Stunning covers that attract the eyeballs of potential customers
– Customize the templates quickly and easily
– FREE fonts used (provided in the download)
– Save your Time & Money
– Save thousands of Dollars TODAY!
– MEGA package for just a few dollar
The best part is you can get everything for 75% discount (under $20).
But you should hurry, the discount is only available for just 7 days!