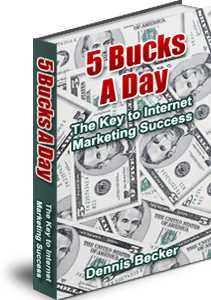 Quite a long time ago, I did mention it's no surprise that we can buy product after product and still not make 5 figures a month as promised because we haven't gotten our thoughts in sync with the product creators.
We may even follow the instructions to the dot, but times and market situations have changed and the formula doesn't work optimally anymore.
For now I don't want you to 'condemn' those products immediately because you may like to revisit them after you read "5 Bucks A Day" first.
"Haha, from $10,000/mth to $5/day and that's $150/mth. What are you smoking?"
"5 Bucks A Day" is one of the few e-books that leaves me with a "I wish I had known this earlier…" feeling.
It holds some every interesting lessons:
1) It explains the old riddle: "How do you eat an elephant? Bit by bit."
2) It says, "The money is in the p______ list", not e-mail list.
3) It talks about a "fail faster" method to achieving goals sooner. If I had known this, I would have the courage to do more and have more as a result.
4) You must also have faith, not the religious type or the law of attraction, but more like faith in "mathematical probabilities". I let you figure this one out :)
All it's saying is "start smaller". Do the little things and they will all add up. If you manage to fill half a glass with $5, would you be upset you can't fill the whole glass at $10?
But how do you quickly bridge the gap between $5 and $10,000?
These are 2 profound questions (not in the e-book) which "5 Bucks A Day" will address.
Read this and your ideas will get clearer to you.