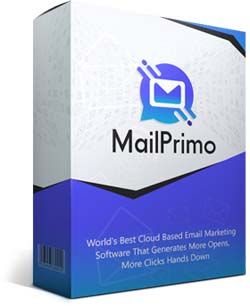 Do you know:
– E-mail marketing yields average 4,300% return on investment for businesses worldwide?
– E-mails are the most powerful, profitable and low-cost marketing tool as their conversion rates are 3 times higher than social media?
Which means that e-mail marketing still has great potential and everyone needs it.
Dr. Amit Pareek has just released his own cloud-based e-mail marketing software called MailPrimo that allows you to get your mails delivered straight to the inbox and boost opt-in rates with no additional effort or expense.
Not only that, it gives you the power to have complete control on your e-mail marketing campaigns.
It's The Ultimate Game Changer as you can:
– Import your lists easily without losing a single email ID
– Get complete control over your e-mail marketing campaigns
– Work seamlessly with free Google, Yahoo and Outlook SMTP
– Get boatloads of leads with minimum time and money invested
– Greatly reduce spam complaints and protects your send reputation & much more!
And the best part, you only have to pay once for this amazing software and avoid paying any recurring fees again and again.