E-mail marketing has always been profitable. But while it USED to be fun and easy, not so much today.
These days, you've got to stay ahead of the spam filters and traps e-mail clients use to bounce your messages to virtual wasteland.
Who's got time to CONSTANTLY study what words and phrases send messages to spam?
Thankfully, there's now an AUTOMATED solution that gets your e-mails INTO the inbox so they get opened, and you get paid.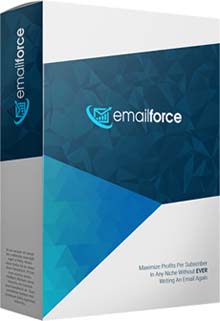 Using the same technology behind thousand-dollar copy-generating software, E-Mail Force turns your e-mail marketing into a push-button e-mail copywriting solution.
Just pick your niche, answer a few questions about your promo, and generate up to 75 unique, completely customizable e-mails you can choose from. The software will even upload your e-mails to your autoresponder FOR you, saving you all kinds of time.
This is so easy it feels like cheating!
Whether you're promoting your own products, affiliate offers, webinars, high ticket, consulting, e-commerce or more…
Automated e-mails THAT CONVERT are now yours for the taking.
For a ridiculously low one-time cost when you get in right now.
This has seen extensive testing for over 6 months by DEMANDING marketers and the proof's all over the page: see for yourself right here.