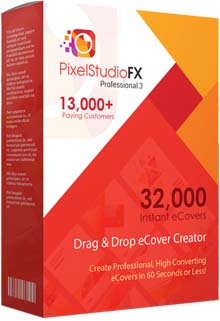 If you've ever seen those really neat, professional, and enticing book covers or software covers and wonder how it's done…
Here's the 'typical' 9-step process:
1. Go to your favorite freelance site
2. Post a job
3. Wait 24-48 hours for apps
4. Interview and tell them what you want
5. Wait about 48-72 hours for submissions
6. Dislike what's offered and ask for changes
7. Wait another 24-48 hours for revisions
8. Get something that's 'CLOSE' to what you expected
9. Pay the designer anywhere from 300 to 500 bucks for it
Those 9 steps are EXACTLY what the typical process is when it comes to design and e-book covers.
Now here's the NEW 2016 way:
1. Download Pixel Studio FX
2. Take 60 seconds to make your cover how you want from the 3,000 different combinations already done for you
3. Download and use right away!
How simple is that?!
Not only will it save you time, energy and money, it'll give you less grey hairs too!
See Pixel Studio FX in action.