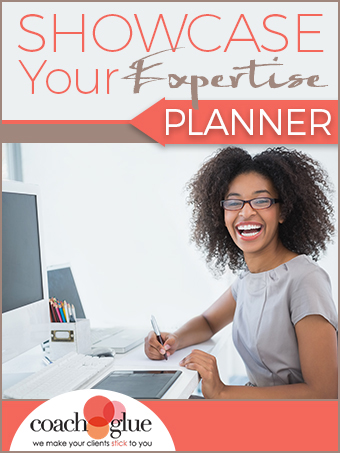 Many people in business are not fully leveraging themselves and showing off their expertise in a way that attracts new clients, speaking gigs, and JV partners.
Just think about all the websites you visit…do you know right off what they do, who they serve, and how they can help you, or is just really confusing (and outdated)?
And that's where you come in. You can use CoachGlue's "Showcase Your Expertise" planner to help your clients through the process of getting clear about their zone of genius and story, and teach them how to leverage their expertise everywhere.
The "Showcase Your Expertise" planner covers:
Step 1: Identify Your Zone of Genius
Exercise: Identify your zone of genius
Step 2: Challenge Your Own Assumptions
Exercise: Compare your business with your competitor's business
Step 3: Your Story, Your Brand
Exercise: Tell your story
Exercise: Create your ideal reader avatar
Step 4: Update Your Bio with Specifics
Exercise: Create or update your professional bio
Step 5: A Picture is Worth a Thousand Words
Exercise: Organize your photos and brainstorm what type of photos to take/share
Exercise: List where these photos are kept and where you will share them
Step 6: Brag a Little
Exercise: List podcasts you want to be featured on
Exercise: List TV programs you want to be featured on (think local and national)
Exercise: List radio programs you want to be featured on (think local and national)
Step 7: Speak Your Piece
Exercise: Find local and national speaking events
Exercise: List the event names, organizers and speaker application process
Step 8: Gather Testimonials
Exercise: Gather names + numbers of clients who might give testimonials
Exercise: Automate your testimonials
Step 9: There's More to Life Than Business
Exercise: Be more social on social media
There are so many cool things you can do with this planner too (besides using it for yourself). You can use it to create a training course for your clients or monthly members, you can sell the planner as is, you can break up each of the steps into a video or livestream, you can add it into your existing course, and you can even use it build your mailing list.
You don't want to miss the discounted savings too, so get your copy now.