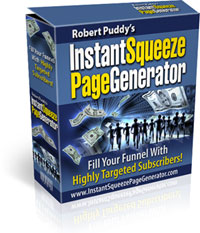 If you are creating multiple opt-in pages for various niche sites, you would have realized a good amount of time is set aside to think through what you need to say i.e. the 'copywriting' part of the opt-in page. And honestly, you may not always know what to say best about a niche you are not so familiar with.
Enter Robert Puddy's Instant Squeeze Page Generator. It takes the hard work of designing a professional squeeze page off your brain only when you follow its on-screen direction. It is free to access and you'll be on your way to creating a solid opt-in page within minutes using its point-and-click wizard. All other templates, graphics and free gifts to give away to get people to subscribe to your list are included!
A upgrading option gets you a complete business-in-a-box system and lifetime upgrades to ISPG.