Building an online business takes time and I'm sure you don't have enough, right?
That is why outsourcing is by far one of the best ways to capitalize on your investment and time, to get more done in the same amount of time, even while you sleep.
But I also bet you've tried outsourcing and ended up with poor quality work produced by unskilled workers who don't really understand what you are trying to achieve, am I right?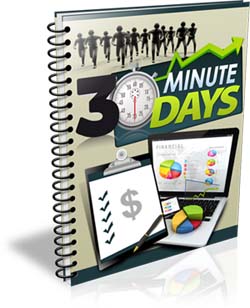 Or if you are not outsourcing and are unsure of how to get started, "30 Minute Days" is also created just for you by 2 people who have refined their outsourcing skills over the last couple of years, Keith Purkiss and Mandy Allen.
In "30 Minute Days", you will be able to follow their methods step-by-step, even using workers that they recommend to fulfill your tasks.
They will show you how they use outsourcing to benefit their business and lead you by the hand towards outsourcing success for your own business.
Coupled with an active mentoring group where you can ask questions and share experiences with other marketers this product will enable you to get into a position where you can have a host of workers helping you to succeed without having to put in the hours!
If you are not outsourcing, then you should be! Get "30 Minute Days" on a dime sale now!