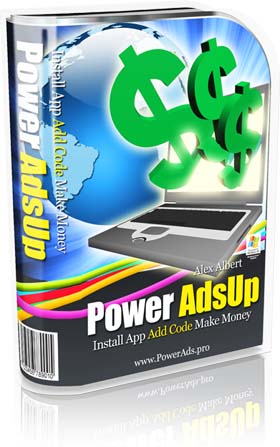 Don't underestimate those blocks of native ads that you may have come across on major news websites or even individual blogs. The way the headlines are copywritten and graphics chosen are instrumental in getting high click-through rates.
Of course, the advertisers pay premiums to publishers to have their ads in those website spaces. Meanwhile, what can you do to ride on native advertising?
Here's a good substitute solution. The "Power AdsUp" software can produce the same style of native ads as on the big-name sites. With "Power AdsUp", you have the same ability to produce these amazing ads on your website, and you can use these ads to send website visitors to anywhere you want them to go: your affiliate links, CPA offers, all e-commerce and Amazon offers, squeeze pages, sales pages, blog posts etc.
After a while, you can step up a level and charge a premium fee to advertisers interested in taking up a native ad space on your website.
The super "Power AdsUp" software is now offered at a very low price on a dime sale but it gradually increases. You also get a one-time offer for the Pro/Developer version of "Power AdsUp". It is optional, but for the relatively low price I think it's worth it. As developer licence owner, you may install it on other people's websites and get easy cash from it—this becomes your own biz-in-a-box.
Go over to the sales page and check out some native ad examples. Remember you just need to create a couple of these ads and you will more than get your money back.