Several subscribers had asked me what web hosting service I use, with one noting that my blog actually loads fast. I've been using iPage for more than 2 years now and it is quite likely I'll not be looking for the next one (after having moved from 2 previous hosting services over the years).
One really good thing about iPage is it has no limits on CPU usage. Here's a screenshot of my interaction with a sales representative which I captured before I decided to purchase: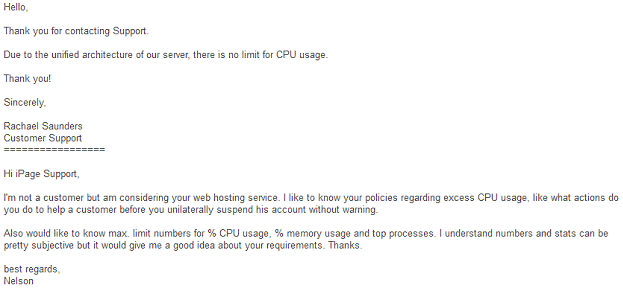 However, it does check on a case-by-case basis and will notify you if it does not like what it has detected e.g. heavy video streaming, large file downloads etc.
iPage also proposes an "anytime money-back guarantee" and it is very easy for its thousands of customers to take it to task for what they publish on its website. So far there shouldn't be any problem with that. You can claim a full or pro-rated refund when you cancel your account anytime during the subscription period.
In other words, you have no risk at all when subscribing to iPage. Anytime when you find something you dislike with their service, you can simply cancel off your hosting account and ask for a refund.
There's a special introductory offer going on right now for $1.89/mth. Don't miss this one!
(As always, I get a commission for the sale generated should you take up this iPage offer through my affiliate link.)