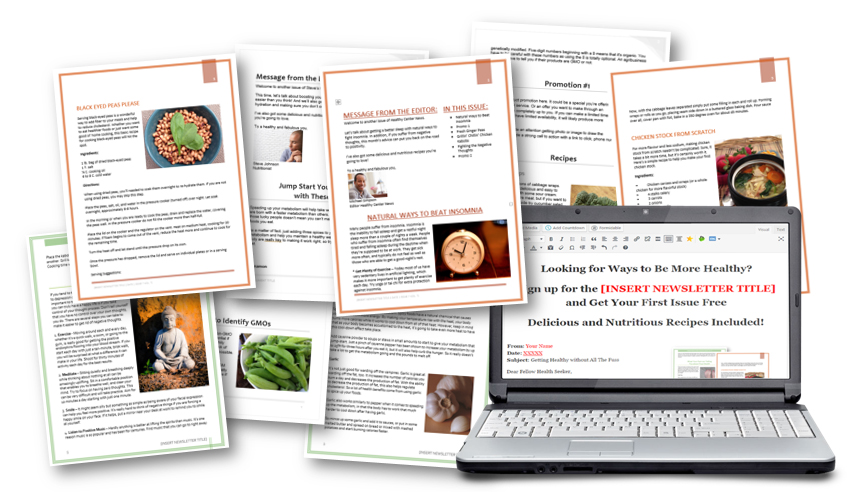 If you're in the health and/or fitness niche, here is an amazing time-saver for you.
We all know the money is in the list and we need to grow our subscribers. And most importantly, we need to deliver stellar content to grab and capture our subscriber's attention.
But sometimes that's easier than done.
Luckily, Alice Seba and her team at ListMagnets have done the work for you. You can get a month's worth of ready-to-publish newsletters for under $10…but for a short time only.
Here are a few ideas for using the content.
• Use the newsletter as highly-targeted lead magnet to grow your list. You've got the ready-to-paste opt-in copy included in the package, making it easy for you to make a hard-to-resist opt-in offer to get more subscribers.
• Monetize the newsletter with your product promotions. The newsletter include space for your product promotions. Warm them up with great content and get your offer out there.
• Use the extra articles and recipes for blog posts. There's a lot of content in this package and plenty left over to load up your blog and drive more people to your newsletter sign up.
• Add the newsletters to your membership site. If you've got a membership site, this newsletter is a great value-add to your membership. Send it out once per month by email or even print out and mail it.
• Use the newsletters a product bonus. Beef up your current product offers by adding a newsletter issue as a product bonus.
• Develop it into a product for sale. Whether you deliver via email or snail mail, these newsletters make for great content your customers are willing to pay for.
Just a few ideas to get you going, but now it's your turn to run with them. Go get this very special private label rights content package here.