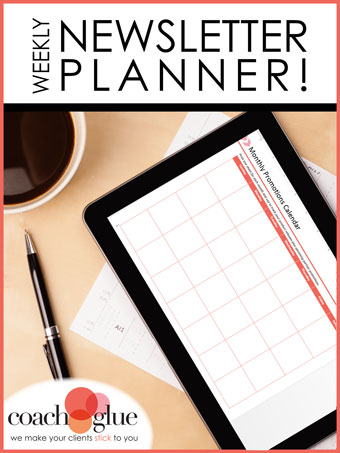 Internet newsletters are a fast-growing medium and readers love them because they are most engaging. Newsletters are most engaging because they tend to have a balance between value-adding content and ads. When sent regularly, readers will come to expect the information they opted in for, and open and clickthrough rates soar as a result.
Do your clients struggle with what to e-mail their lists? If so, you'll love what I have for you today.
The Weekly Newsletter Planner is ready for you to turn into your next product either as a stand-alone product, or as part of an e-course or workshop program.
You have full license to rebrand it, make it unique to your business, or re-package it up for sale on your website!
It gets even better. Through Monday, May 2nd you can get 50% off when you use the coupon code: PLANHALF
The 37-page Planner covers:
• Who Am I Writing My Newsletter To?
• Exercise: Defining My Audience
• Why Do People Sign up for MY List?
• Exercise: How Do I Stand Out?
• Why Would People Want to STAY On My List?
• Exercise: What Great Content Do I Provide?
• The Know, Like, Trust Factor
• Exercise: How Do Readers Know Me, Why Do They Like Me and Trust Me?
• I am…
• Exercise: Discover What Me Unique and Create My Awesome Bio
• Create Your Mailing Schedule
• Exercise: Determine Which Day and Time My Newsletter Will Be Sent
• Content Planning & Your Promotional Calendar
• Exercise: Monthly Promotions Calendar
• Content Planning & Your Editorial Calendar
• Exercise: Editorial Calendar
• What Do You Want to Include in Each Newsletter?
• Exercise: Determine Sections to Include in Each Newsletter
• Setting Up Your Newsletter the First Time
• Exercise: Setting up My About Me Section and Disclaimer
• Your Weekly Newsletter Plan
• Exercise: What Will My Content Include?
• Where to Find Ideas
• Exercise: Keep Track of Newsletter Ideas
• Keeping Your Commitment
• Exercise: Staying Committed to Success