What's the single most important thing about social media that has made it an absolute necessity for running a successful business today?
It's viral marketing! Viral Marketing is the world's most powerful marketing system! You can trigger a domino effect and through one visitor and his friends and their friends and soon you can reach the entire world.
Nothing beats memes in viral impact. You just can't miss using them if you want to boost your profits: Here's why:
1) Extremely likeable: Everyone loves to laugh at a good meme.
2) Quick consumption: No need to play a video or read an article. People love memes because they can be consumed really quickly.
3) Sets off the 'share' impulse: See a good meme? You can't help but share it. That's why they are so widespread.
4) Instant attention grabber: Recognizable images make people pause and pay attention even while they are scrolling their feed.
5) Generates solid engagement: Get a ton of likes, reactions and comments.
6) Great connect: Memes really connect with the viewer on an emotional level. Your brand's recall is improved.
7) Endless viral potential: Keep creating new memes and the traffic never stops coming in. They never go out of fashion.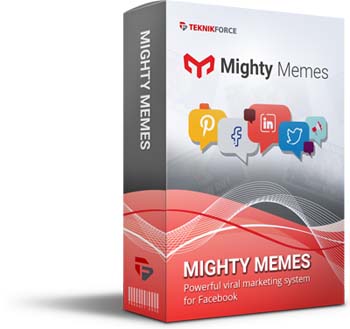 Speed up your FB fan page & social profile growth with Mighty Memes.
Mighty Memes is the best meme marketing system.
Don't spend more time, more effort finding and putting together everything when you can do everything right from creating memes to scheduling them right inside Mighty Memes.
Go viral! It's simple!
Step 1: Pick a ready-made meme template out of hundreds or upload your own pic.
Step 2: Create a new meme by simply typing out the text.
Step 3: Publish immediately or schedule posting to your Facebook profiles, pages or groups.
Step 4: Review reports that show you what memes were published.
Make meme marketing a piece of cake with Mighty Memes and get a ton of likes, reactions and comments much more than any other viral content type.