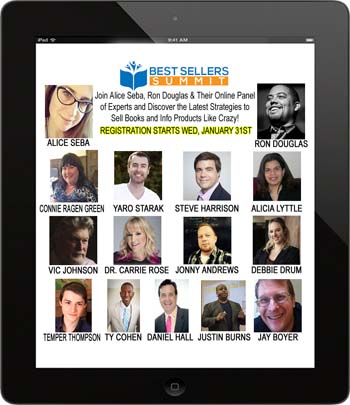 January is the month for New Year's resolutions. Is one of your top resolutions "I'm FINALLY going to be a successful author"?
However, hitting that level of achievement can be a daunting task. It CAN happen, if you have the right knowledge and mentoring, even if you haven't written that book or information product you've been thinking about.
Last year's inaugural Best Sellers Summit was a huge success because there is a great demand for book publishing know-how, so NY Times Best Selling Author Ron Douglas and content marketing expert Alice Seba have assembled a new line-up of online publishing experts so you can learn the latest real-life and practical strategies like:
6 ways to get more book reviews to sell more books with less effort
How to have a high quality non-fiction book written for your for free or for a very low cost
'8 Kindle Secrets' that reveal the key factors to increasing book sales on Amazon
How to churn out massive profits with membership sites
How to take a best-selling book and turn it into a course people will love
4 models to double your business with your book
How one writer sold 25,000+ copies of their book and build up a list with 100,000 readers, using only Facebook
How to write and publish a #1 best-selling kid's book in 7 days or less
How to easily write a book in just 1 weekend
How to effectively engage your audiences with chatbots to sell your products on Facebook Messenger
10 ways to get free publicity that sells books and information products
Using a blog to build your brand, grow your email list and sell products on autopilot
How to turn your writing skills (and even content you've already written) into an easy income without taking any clients
Turn your knowledge into a sustainable recurring income
From all the feedback Ron and Alice received about last year's workshop, they certainly over-delivered on their promise. And these are just a few of the comments from their Facebook Event page.
"I had to get up at 2am and stay coffeed up until 6am for Day 1, and it was well worth it. Walked away with some nuggets that I'm gonna be applying in my new business. One tip by Armand is gonna save me a crap load of time." ~ Kevin Riley
"I have to add my congratulations here too. This summit has indeed been very valuable for writers. Thank you for putting it all together and selecting such good speakers who present on topics of interest and with substance."  ~ Suzanne Kiraly
"Amazing first day came away with my head buzzing. Just the first day is enough to set you up on the right path to making a healthy income online."  ~ Graham Nelson-Williams
"Just want to say if day 2 is as good as day one we are really on a ROLL!" ~ Eleanor Wint
The Best Sellers Summit is a 3-day virtual summit, which means you don't have to take a flight and stay in a hotel, so there is no reason you can afford to miss this out when all-access pass starts at $17! You get all the recordings, transcripts, notes and PowerPoint slides. This could be as much a life-changing event as it is to past attendees. The saying goes that it's always best to learn from and surround yourself with people who have achieved what you want to achieve. And if one of the things you want to do is grow your audience and sell more stuff, you've got to get yourself to the Best Seller Summit that runs from January 31st to February 2nd.