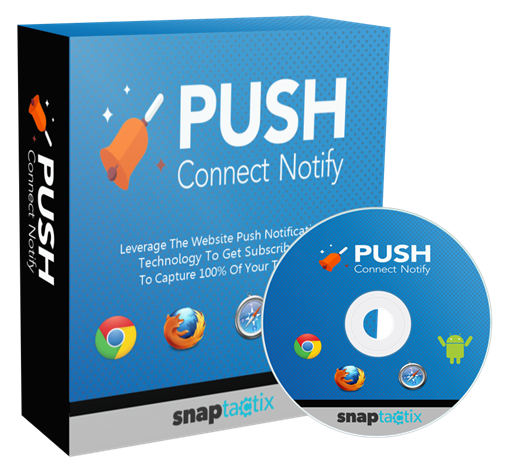 If you've ever been to a major site, like YouTube, CNN, or eBay, you've probably been shown a little 'popup' that says "[NAME OF SITE] wants to send you notifications."
That's called a "push notification".
The cool thing about it is that it's UNBLOCKABLE as it's built into the major 3 browsers: Chrome, Firefox and Safari.
And before you say it, these 3 browsers represent 93% of the world's population of browsers!
That little notification requires either a team of developers to code on your website, or you can shortcut it with a simple line of code using "Push Connect Notify".
My friend Jimmy Kim and his company Snaptactix, just released this brand new app that's the next generation of website push notifications. Here's I love about Push Connect Notify.
1. It's 100% marketer friendly, letting you fully customize everything from logos, colors, buttons, and more.
2. It requires you to just copy-and-paste a line of code on your website (similar to Google Analytics) or you can use the snappy 1-click WordPress OR Shopify integration
3. It captures e-mail addresses for you too! Integrated with the top 8 autoresponders OR you can paste your own code!
It's literally the 'perfect' way to capture 100% of your website traffic.
A MUST-HAVE for any serious marketer in 2017.
Leverage the power of your web browser with an UNBLOCKABLE technology that you can start using today!
Most companies charge anywhere from $19 to $197 a month or more. but a special pricing for an unlimited, unrestricted plan is available today.
Check out "Push Connect Notify" and discover why it's the most useful tool of 2017.