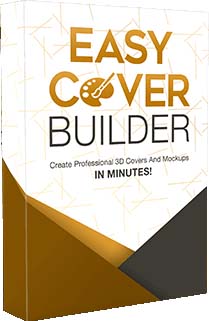 Getting e-covers designed for you can quickly become a problem and costly, especially if you sell multiple products.
But with Easy Cover Builder, you can now quickly create stunning and realistic product graphics such as:
– Boxes
– Books
– CDs
– DVDs
– Membership Cards
– Mobile Devices
– Packaging
– Product Bundles
– Brochure and Editorials
– Photo-realistic Mockups *1-OF-A-KIND FEATURE!*
And much more.
The best part is you don't need Photoshop and you can say goodbye to expensive designer fees!
Finally build your own professional, slick-looking covers and realistic mockups within minutes in drag-and-drop style!
This is an absolute MUST-HAVE if you're selling digital products or services online. Hey, you can be the one charging a fee for every cover design you make for your clients (but don't tell them this is your secret weapon!).
Related Posts: