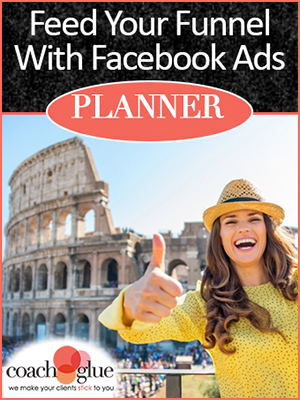 Get the biggest bang for your Facebook Ad buck with the new "Feed Your Funnel with Facebook Ads!" planner from CoachGlue!
You have permission to edit, put your business logo and name on, and sell or give away to your clients/customers/members.
The Facebook Ads Planner covers:
Step 1: Your Outstanding Offer
Exercise: Design Your Offer
Step 2: Monetize Before You Market
Exercise: Monetize Your Free Content
Step 3: Laying the Foundation
Exercise: Plan Your Funnel
Step 4: Your Target Audience
Exercise: Get to Know Your Ideal Audience
Step 5: Landing and Download Pages
Exercise: Design Your Landing and Download Pages
Step 6: Your Email Autoresponder
Exercise: Plan Your Follow-Ups
Step 7: Choose Your Ad Style
Exercise: Determine Your Ad Style
Step 8: Copywriting Matters
Exercise: Lay Out Your Ad
Step 9: Test and Tweak
Exercise: Check Your Stats!
Enter coupon code "2017" and save yourself $20 on purchase. There is no time limit so I don't know when this discount will end!