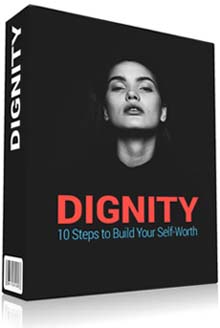 The guys over at Tools For Motivation have just launched their latest self-help PLR mega-pack and I had to share this one with you.
If you want to show your audience how to overcome their "inner critic" and starting REALLY GOING for their biggest goals and ambitions, "DIGNITY: 10 Steps To Build Your Self Worth" is a perfect fit.
Give your audience a step-by-step process that they can follow to recognize their self-worth. Help them realize that they are worthy of any goal they truly desire.
By establishing a healthy sense of self-worth, your customers/clients will achieve more and have more fun along the way. It all begins by accepting themselves and recognizing that they are indeed WORTHY OF SUCCESS.
You get instant access to ALL of the following:
Premium Content
1. 6000-word e-book (Text, Headers, Table Of Contents)
2. Enhanced design, ready-to-publish e-book (all of the above plus graphically enhanced for visual appeal)
3. Student workbook
Branding Content
1. 10×400-Word articles (also serve as transcripts of videos)
2. 10 blog headers designed-for-you
3. 2 reports based on articles
4. 10 slide decks of articles
5. Lesson checklist from e-book
Lead Gen Content
1. 1500-word report
2. Pre-written e-mail sequence
3. Trainer slide deck
Social Content
1. 20 editable quote posters
2. Editable infographic
3. 30 pre-made tweets
4. 20 pre-made Facebook posts
5. 10 done-for-you Instagram posts
6. 10 done-for-you Pinterest posts
In addition to the DIGNITY PLR pack, Justin and Ted have also arranged an interesting series of bonuses.
There is such a wide variety of content included (from e-book to video, audio, articles, infographics, posters and more), chances are you can make use of this PLR bundle both now AND in the future. Even if you only plan to use a few pieces of this package for your marketing or digital products, it is well worth the price of entry.
Thanks for checking it out. I hope you like it.