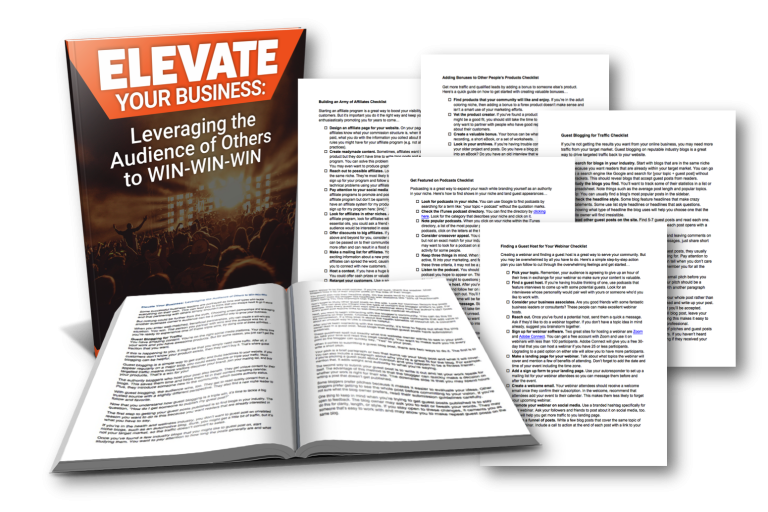 Joint ventures are one aspect of business that is not often touched on in informational products, PLR or not, but Alice Seba at ListMagnets has released a new PLR package that shows you and your customers how they can grow their businesses by partnering with others and leveraging their audience.
Here's what's inside this high-value package:
• Report (4,111 words): You get an informative report (.doc) that teach your readers step-by-step how they can get started partnering with others online to grow their business.
• 5 Detailed Checklists: You get a checklist (.doc) for each of the main topics of the report.
You also get the marketing materials you need to promote the bundle including a professionally-designed e-cover set—JPG and PSD with flat cover and 1 x 3D version to help your opt-in stand out.
Here are a few ideas for using the content:
• Use it as a highly-target lead magnet to grow your list. If you're looking to grow your list of people who want to grow their online business, you've got everything you need here. This report takes them through the steps they need to brainstorm and get started working with others.
• Turn it into a paid product. There's lots of great content here plus you get 5 detailed checklists to help your customers take action. Easily charge admission for this high value, action-oriented content.
• Break it up into blog posts or other bite-sized content. You've got a ton of fodder here for several informative blog post series. You can use the checklists as an opt-in offer or high-value free download.
• Add it as a "starter kit" in your membership site. Have a membership site and want to bump of the content value? Add this content as a "starter kit" for your newbie members and they'll immediately see the value of their membership.
Just a few ideas to get you going, but now it's your turn to run with them. Get your "Elevate Your Business" Package + PLR for $7 now (last day for special price is Dec. 5th)!