FACT: 180 billion apps have been downloaded from the Apple App Store.
Would you like a piece of that action?
PROBLEM: Designing apps costs thousands in designer's and developer's fees.
According to App Savy, it takes $10,000 to $25,000 to create a basic app, and that is just for one platform.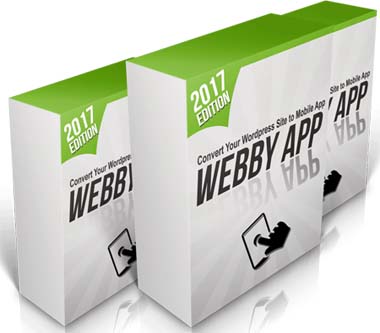 SOLUTION: WebbyApp, the brand new, cost-effective software that allows you to design your own app for iOS and Android…and get this, for FREE!
This software works by turning ANY WordPress site into a full app, and it even allows you to control the content, design, colours, logs and layout of your app at the click of a button.
That's right, you can now turn your old boring sites into exciting iOS and Android apps that people love and thus you tap into a complete new marketplace and traffic stream.
WebbyApp is truly revolutionary. You can create astonishing apps with loads of features including:
[+] images
[+] promotional videos
[+] explainer videos
[+] blog posts
[+] specialized pages and information
[+] directions and maps
[+] contact forms
[+] and much, much more
Turn your WP sites into stunning, state-of-the-art apps that work perfectly on any phone or tablet. This will not only make your business look great, it can help create a new stream of income, designing incredible apps for clients who will pay top dollar for the right app design.
You will not believe how easy designing killer apps actually is!
All you have to do is upload the plugin to your WP site and you're good to go—the app turns your site into a mobile app then helps you publish it to iOS and Android with just 2 clicks!
Early-bird discount is available. Watch how WebbyApp works and get started!