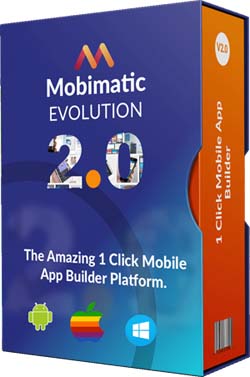 The world is growing fast and the use of mobile apps is increasing rapidly every day. Over $40 billion was made last year alone from the sales of mobile apps. Have you benefited from taking your share of the pie yet?
Here's the good news: you don't need prior knowledge of coding to built a mobile app, because all you need is a specialized drag-and-drop app builder that:
• Create apps in 5 mins
• Has the ability to do push notifications
• Can create Uber-like taxi app
Yes, it's that good. You can use Mobimatic to build any app of your choice, I mean any app for business, e-commerce, music, church/religious etc.
This is a great opportunity to open up a new income source. Watch a demo video to see how it works. Use coupon code "EVOLUTION10" to get 10% off!