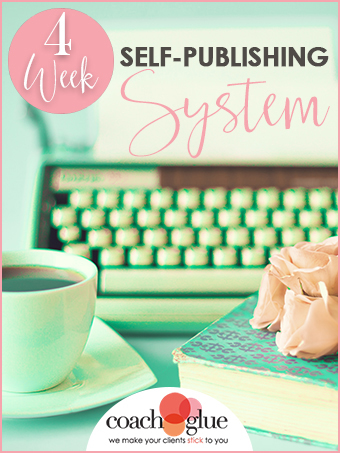 CoachGlue has just released a new set of PLR workshop material that you customize and sell to your clients and it's pretty awesome if we do say so ourselves.
Altogether, you receive 4 Training Modules + 4 Fast Action Plan Worksheets & Exercises + 4 Program Accelerator Checklists + 4 Sets of PowerPoint Slides in "4-Week Self-Publishing System".
Module 1 "Get Your Book Ready for Publication" includes:
• 3 types of editing—skip even one of these, and your book (and your sales) will suffer for it.
• Where to find great editors—and why this is one job you absolutely must outsource.
• How and why to pre-qualify beta readers—and how to get feedback that is actually helpful and not simply glowing.
• How to choose a formatter for your book—including six questions you must answer before you pay anyone!
• 3 formatting options to choose from—and one that you probably already have on your computer (plus how to use it).
• Two ways to create a spectacular, stand-out cover—don't skip this, because people really do judge a book by its cover.
• Pros and cons of various cover file types—and when and why you might choose one over another.
• How to organize your files for your formatter—she'll be much more efficient and less expensive if you do this one simple thing!
• How to prepare your files for distribution—because a little planning leads to a lot less stress!
In Module 2 "Plan Your Book Launch", you will discover:
• 10 pre-launch tasks you can do right now (even before your book is finished) to build a buzz—get your audience excited, and you'll build a ready list of buyers weeks ahead of time!
• Why your book launch is not just about your book—and how to incorporate video, audio and more to capture a larger audience.
• Why YouTube can be your biggest source of traffic during a book launch—and all it takes is this one simple tool!
• How to prepare your website for launch—skipping this step is like failing to straighten your house before company arrives.
• How to find the time to do all the tasks that are required for an amazing launch—because the last thing you need is more overwhelm.
• A 3-step plan for gearing up your social media presence—Without a strong social media plan, your launch will suffer.
• The one tool all social outreach plans need—and you're probably using it every day (but maybe not correctly).
• How to find out the best time (and places) to hang out online with your audience—because getting in front of the traffic is critical to your success.
• How to make use of your ARCs—and how to be sure you get the best results from your outreach efforts.
And, yes, there's more. In module 3 "Step-by-Step Amazon Start Up", you'll find…
• Why it's critical to upload your book to Amazon's self-publishing platforms in a specific order—if you get this wrong, you'll create a lot more work for yourself!
• Vital differences you must know about cover art—one missing piece can derail your publishing plans before you get started.
• Time—and frustration—saving tips for image formatting—the rules are very different for print than digital, so don't skip this section.
• Why you shouldn't use all the space you're given for your book description—and how to make your book stand out.
• The pros and cons of publishing on CreateSpace—and why you might want to do it regardless.
• What you must know about ISBNs—and how one little choice can keep you out of brick-and-mortar bookstores permanently.
• How to make the KDP Select decision—and the huge advantage that can more than make up for lack of sales.
• How to optimize your Amazon author page—and an in-depth look at one author who gets it all right.
Module 4 "Grow Your Reach with More Publishing Platforms and Promotion" wraps it up with…
• 3 major platforms your audience is using—including one you may never have heard of!
• A bullet point comparison of the most popular publishing platforms—and one big drawback to a major player that you must know about.
• 7 ways to promote your book offline—you might just be surprised how much traction you can gain.
• Practical tips for how to manage it all—because it's easy to become so overwhelmed your book is never published, or worse, it's published badly.
• Critical considerations when it comes to choosing different publishing platforms—including location-specific issues you may not have considered.
• What you must know about payments, commissions, and stats—and which platforms do it best.
• Why you might want to purchase your own ISBN—and the one platform that requires it.
Excited? Ready to release your next workshop course?
You can check out the "4-Week Self-Publishing System" package. Now there are 3 ways to get this new workshop:
1. Grab it for a one-time price at $297. You'll get everything you see listed above.
2. Better Value: Get a spot in CoachGlue's All Access Lite program for $97/mth. You'll get this workshop AND 3 new packages automatically added to your account every month!
3. Best Value: Accessing the Annual VIP Program gets you just about everything in CoachGlue's ENTIRE site at a huge discount PLUS everything they release for the next year. If you plan on grabbing a few things here and there, this will most likely save you a LOT of money over the course of the year.
Thank YOU and I hope you enjoy the rest of your day!