Are your clients trying to build a solid following or spread their message on multiple social media platforms to no avail?
Are they whipping up copious amounts of (really good) content, but still hearing crickets?
Do they pour their heart into their content but still cross their fingers every time they hit 'post' that somebody—anybody—will respond?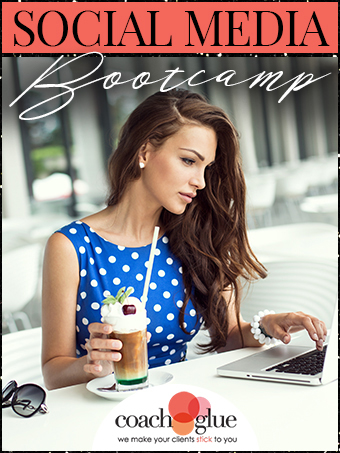 If they need serious help, then you're going to LOVE CoachGlue's new "Social Media Bootcamp" workshop.
You can use this done-for-you workshop to teach your clients the critical components they need to know to create a wildly-engaged social media following, without burning out!
Take the material and quickly and easily put together an awesome program/bootcamp/e-course for your clients that they'll love!
Altogether, you receive 4 Training Modules + 4 Fast Action Plan Worksheets & Exercises + 4 Program Accelerator Checklists + 4 Sets of PowerPoint Slides in order to deliver a value-packed program for your clients.
• Module 1: Find Your Tribe
• Module 2: Build the Foundation
• Module 3: Plan Your Content
• Module 4: Engage Your Followers
You can head over to the promotion page and discover what content the 4 modules consist of.
The important thing to note is all the hard work has been done for you! You don't have to invest hours and hours of your own time into developing a workshop program, and you don't have to pay thousands of dollars to hire people to help you. Investing in CoachGlue's low-cost coaching workshop material saves a ton of time, energy and money!
Grab it for a discounted price at $77 (valid until January 31st, 2018; usual price: $297). You'll get everything you see listed above. Use coupon code '77' on checkout.
2017 is coming to a close so I wish you can achieve the next level of success in the new year!