Have you ever struggled with low e-mail open rates, terrible e-mail inboxing, or your entire autoresponder failing to send out e-mails at the designated times?
Many Internet marketers including myself have felt strongly about one thing: "How can I get features of platforms like Aweber, GetResponse with FULL control and without paying monthly costs?"
If you have the same questions, I can give you 2 options:
1) Build your own or buy Interspire (that costs $495 per year).
OR
2) Get InstaMailer.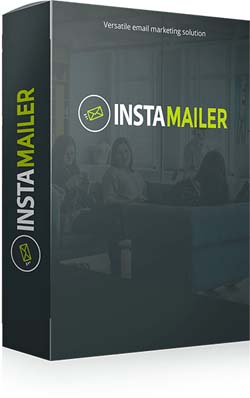 InstaMailer is an advanced e-mail marketing solution that just become available in the market, and does some REALLY powerful e-mail marketing tricks. Here's a complete list:
• Configuring SMTP to send e-mails is easy (and you have detailed guides)
• It connects directly with APIs of major e-mail marketing SMTPs to get faster e-mail sending
• Detailed segmentation built in to improve marketing opportunities
• Immediate automation to move people around different lists based on actions
• Send as fast as 10,000 e-mails per minute (across the platform)
• Import single opt-in list from anywhere, no restrictions
• Customize your unsubscribe message as you want
• Full control over adding and removing contacts as and when you want, no restrictions
• Use opt-in forms to collect leads from other pages you own
• Send and schedule broadcasts and autoresponders
• List cleanup included (move/delete those that don't open/click)
• Built-in spam checker
• Ability to block domains, IP addresses and more!
This tool is already responsible for delivering 1 million mails a month right now, and it's available at one-time price for a very short time. Neil Napier used the same solution to improve his open rate by 284%!