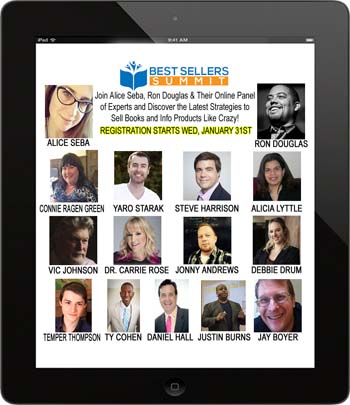 Earlier this year, NY Times Best Selling Author Ron Douglas and content marketing expert Alice Seba ran Best Sellers Summit 2017 to resounding success. In this virtual event, they assembled a panel of online publishing experts so you can learn the latest real-life and practical strategies like:
* How to build instant and lasting authority in your niche
* How to overcome your indecisive slump and take profitable action
* Growing your continuity income with membership sites
* Take your book's message further by repurposing your content
* Working with a publisher to boost your credibility and sell more books
* Building a 3K a month business in a virtually ignored Amazon category
* Writing and publishing a best-selling children's book in 7 days or less
* Using the power of book series to sell more and boost your authority
* A case study on becoming the #1 book on Amazon in 9 hours flat
* Simple Facebook Ad tweaks to get more exposure and reduce your ad costs dramatically
* Creating a self-publishing empire on Amazon, without doing any writing
* Effortlessly bringing additional income beyond your books
* Kindle-selling secrets of an 18-year old with a 5-figure monthly Amazon business
* Another case study of breaking the top 40 books on Amazon, in ALL categories
* Creating your own books and e-books in 3 hours flat…or less!
* Using public domain content to create profitable Kindle books
* How to get more book reviews, WITHOUT cheating the system or raising any flags
* Growing your mailing list through your book sales
From all the feedback Ron and Alice received about the workshop, they certainly over-delivered on their promise. Here are some unsolicited feedback from the Best Sellers Summit:
"The BSS was awesome! You put together an awesome slate of people to present. I see a lot of potential in business breakthroughs here. If you can't breakthrough with this, you aren't paying attention or you aren't trying!" – Damion Flynn
"I have attended all of the sessions and all of them are very informative! Loving it even more than last year." – Mandy Kendall
"This was by far the best seminar I've attended, ever! I recently retired and have been ruminating furiously, trying to figure out what I want to do and how to do it! You guys and your fantastic presenters have given me some invaluable tools!" – Kristin Volberg
"What amazing speakers you have brought together. I really appreciate all the tips and the quality of speakers. Thanks Alice Seba and Ron Douglas for such a brilliant Summit. Loving it!" – Diana Walker
If you had missed attending the Summit, you will be glad to hear Ron and Alice are now holding a sale of the BSS recordings. You can now get full access to all the recordings, enhanced transcripts and detailed notes from all the information-packed sessions, but the sale is only good through the weekend.
Get your specially-priced All Access Pass before your weekend is over.
Related Posts: