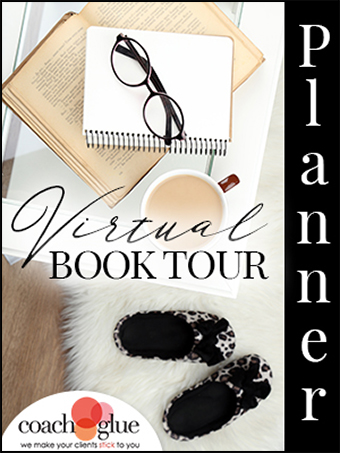 Now here's an interesting planner that will help you (and your clients) sell more of your books by taking your book on an affordable and fun virtual publicity tour.
It's easy! Instead of traveling from city to city, you travel from blog to blog and podcast to podcast, getting in front of new audiences every day! BUT the important thing to succeeding and getting a ton of visibility from this method is to design a plan.
The Virtual Book Tour Planner helps you do your own book tour without costly mistakes, and it covers the following:
Step 1: Build a Solid Foundation
Exercise: Create a website, your online home base
Step 2: Determine Your Book Tour Goal
Exercise: Determine your book tour goal and create the tools needed
Step 3: Identify Your Ideal Reader
Exercise: Describe your ideal reader
Step 4: Plan Your Pitch
Exercise: Important things to mention in a pitch
Exercise: Brainstorm 50 blog post/interview topics
Step 5: Research Blogs
Exercise: List 10 bloggers who cater to your ideal reader
Step 6: Get Your Mic Tuned Up
Exercise: List 10 podcasts that reach your ideal reader
Step 7: Go Live on Facebook
Exercise: Research Facebook groups, online forums and local groups
Step 8: Create a Plan
Exercise: Plan your order of appearances and promotional activities
Exercise: Check off each task as you complete it
There are so many cool things you can do with this planner too (besides using it for yourself) since it comes with full editing rights. You can create a training course for your clients or monthly members, sell the planner as is, break up each of the steps into a video or 'live' stream, add it into your existing courses, or use it to build your mailing list.
Acquire your planner and make it a valuable business asset today.
Related Posts: