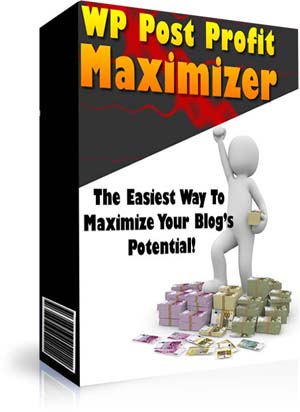 I have a WordPress plugin for you. It's free but powerful.
The WP Post Profit Maximizer allows you to add (append) ANY kind of content to your blog posts.
All you need to do is add the content of your choice to 1 simple text file, and that's it. The plugin will then automatically publish your content at the bottom of every post you make.
What kind of content you want to add, is totally up to you. You can use the WP Post Profit Maximizer to generate more traffic, get leads, earn money…The sky is the limit!
Here are a few good ideas:
• Earn money by adding (AdSense) ads or affiliate banners
• Get more traffic by adding traffic exchange codes that earn you credits every time you show them on your site
• Get more leads by adding a sign up form
• Increase social traffic by adding social share & follow buttons
• Promote your social profiles: add a Facebook badge or a Twitter Timeline widget
• Add a Pinterest Board or Profile widget
• Add a "Related Posts" widget
• Get more engagement by adding a poll or (social) quiz.
• Make sure your visitors will come back by adding an addictive game.
• Add ANY WP plugin features by using shortcodes
Creativity is the key; this plugin takes care of everything else…
Did I mention it's totally free? And that you get 2 extra WP plugins as a bonus?
Don't let this chance pass you by! Grab it now while it is still free!
Related Posts: