Imagine how powerful it would be to have someone managing your Facebook marketing 24 hours a day, 7 days a week, 365 days per year…
No comments or messages on your page would go unanswered; you'd be able to step away from your Facebook page without worrying about things going south, and you could even take some time off without missing out on a potential sale.
Hiring someone to manage your pages all the time would be extremely expensive, but the good news is there's now a 1-click software you can get your hands on that will do all of this for you…on autopilot!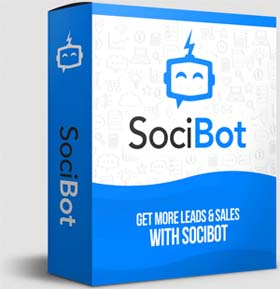 This brand new, cloud-based software is called SociBot, and although SociBot is loaded with features designed to boost engagement, get you leads and save you time, it's still super easy to use.
In fact, there are just 3 simple steps to starting up with SociBot:
Step #1 – Install The SociBot plug-in
Step #2 – Link Your Facebook And Customize Your Automatic Messages
Step #3 – Sit Back While SociBot Works 24/7 To Engage Your Customers And Prospective Customers
To find out how powerful SociBot can be for your business, watch a demo to see all the features that SociBot has to offer, get it for a single price before it turns into a monthly subscription, and use coupon code 'SOCI15OFF' to get a $15 discount!