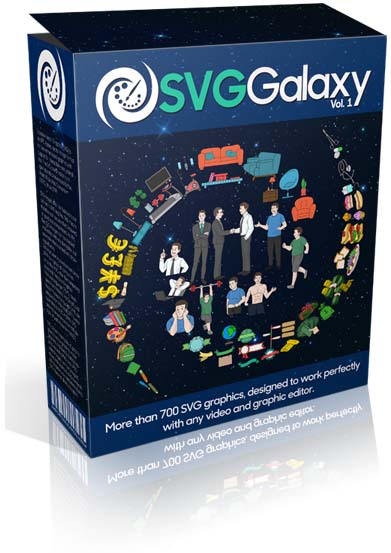 Are you interested in creating better-looking whiteboard videos?
Besides your video script, video visualization is the key to make a good video.
In a whiteboard video, visualization consists of the artwork and the drawing animation and they must go together. It's insufficient to have good artwork but bad drawing animation or reversely.
I understand the frustration of finding a good whiteboard SVG package. There are many whiteboard graphic products out there but not all of them are compatible and can be animated well in whiteboard video softwares.
GOOD NEWS!
Today, my friend Dawn released a whiteboard graphic bundle called SVG Galaxy. It comes with over 800 whiteboard SVG items created from 400 unique & stunning artworks in 15 subjects. There are full colored, shadow-styled and outlined SVGs.
I really love the style of these artworks but the best part is that they animate perfectly in all whiteboard video softwares including Explaindio, Easy Sketch Pro, Videoscribe and TTS Sketch Maker.
Cool enough? No. There's even more.
SVG Galaxy is designed not only for video but for any project that need cartoonist graphics.
You can use it to create:
– Business presentation
– Web banner
– Product cover
– Printable objects like t-shirt and brochure.
And the developers right included with the package allow you use it for UNLIMITED your and your clients' projects.
During a limited launch-special time you can save 55% when purchasing SVG Galaxy.
I'm not sure when will the price go up so act fast.