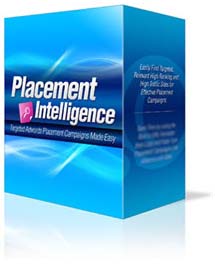 Placement Intelligence is a unique Google AdWords software created by online marketer and programmer Robert Matthew. The software makes it easy to find highly targeted and relevant web pages for advanced Adwords users who want to target specific ad placements on the AdWords Content Network (ACN). The strategy of manually selecting specific targeted ad placements from the ACN can provide targeted clicks at a fraction of the price of sponsored keyword clicks.
The Placement Intelligence software comes with numerous advanced features to help automate the process of finding the most targeted pages, together with their estimated traffic and authority (based on the number of backlinks). Placement Intelligence searches through organic and sponsored results, as well as Squidoo, Hubpages and article directory sites. Its in-built URL formatting tool will enable you to almost effortlessly create and manage your campaigns. All you will need to do is enter the destination URL, add tracking IDs and your CPC/CPM bids, and click 'create'.
Placement Intelligence comes with a Quick Start User guide that will have you up and running in no time. You also receive Adbuyers guide with more than 39 advertising sources, 8 image ad templates, campaign setup and tracking spreadsheet, and free lifetime updates and upgrades.