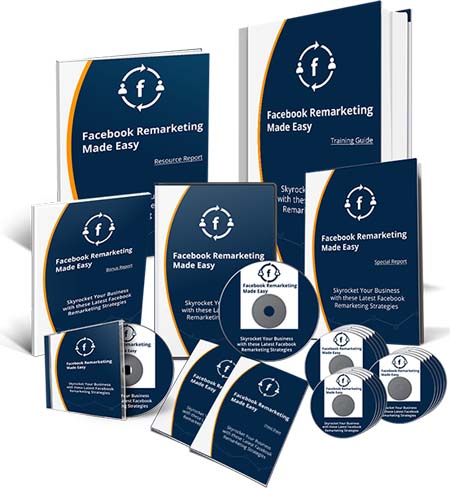 Do you know that:
– 96% of individuals leave a website before converting?
– 49% of individuals visit a site 2-4 times before they actually make a purchase?
– And retargeted customers are 70% more likely to complete a purchase than someone who has not been remarketed to?
Yeah, that's the POWER of REMARKETING!
"Facebook Remarketing Made Easy" with full resell rights shows you how to retarget customers with the latest marketing techniques and increase your sales conversions to a whole new level.
It comes with all "READY TO GO" sales material so you can start selling today!
You can sell unlimited copies for life! No monthly charges, no secret unnoticed charges! No profit share, keep 100% of the money! Keep all leads generated, including the buyers!
You can build your list by offering it as a gift or offer it as a bonus to other products.
You can do almost anything you want with it!
Don't waste time and grab it now on a dime sale today!