You already know that creating new content for your business is hard work. You can't just stick a couple of new blog posts on your website once a year and expect them to send you lots of traffic, let alone help you establish your expertise to potential clients.
It takes time + energy to churn out endless content. But what you may not have realized, is that you can take one of your blog posts and turn it into multiple pieces of content for your business. Or you can reuse that free report or planner you're using to grow your list, or even repurpose elements of the products you create and sell.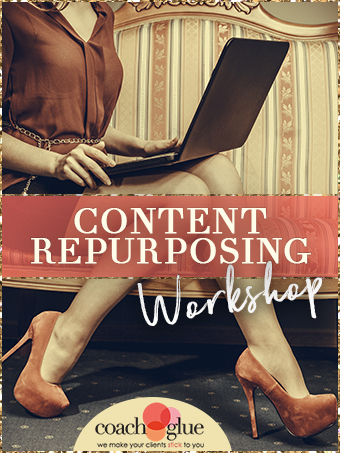 This is why Melissa Ingold and Nicole Dean wants to make sure that you got your brand new Content Repurposing Workshop as soon as possible.
Take the material and quickly and easily put together an awesome program/bootcamp/e-course for your clients that they'll love!
Altogether, you receive 4 Training Modules + 4 Fast Action Plan Worksheets & Exercises + 4 Program Accelerator Checklists + 4 Sets of PowerPoint Slides in order to deliver a value-packed program for your clients.
Module 1: You Already Have Everything You Need (But First You Have to Find It)
Module 2: Variety is the Key to Reaching Bigger Audiences
Module 3: Get Out of Your Content Rut
Module 4: The Hidden Content You Haven't Even Thought of Yet
You can head over to the promotion page and discover what content the 4 modules consist of.
The important thing to note is all the hard work has been done for you! You don't have to invest hours and hours of your own time into developing a workshop program, and you don't have to pay thousands of dollars to hire people to help you. Investing in CoachGlue's low-cost coaching workshop material saves a ton of time, energy and money!
Grab it for a discounted price at $47 (valid until April 16th, 2018). You'll get everything you see listed above. Use coupon code '47' on checkout and save $250 off the regular price.
Related Posts: