Starting out generating leads isn't easy.
You need:
1. A lead generation software
2. A follow-up plan
3. A lead capture page
4. A way to convert visitors to buyers
And so much more!
With so much to consider, where do you even start?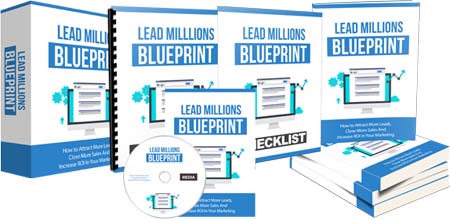 Thankfully, you can take grab Lead Millions Blueprint, a step-by-step guide taking you from A to Z of generating qualified leads.
You'll find out:
* All the different types of leads and how they vary.
* How to build an e-mail list so you can follow up on your subscribers.
* How to increase trust and authority in your industry so your leads will buy your product or service.
* How to use lead management software such as SalesForce and HubSpot.
* How to make sales from leads—turn leads into customers!
* How to write an effective squeeze page or landing page so you can start building your lead generation machine.
* How to make leads excited for a product using copywriting techniques
* How to build leads in person
* How to create a large following on social media by selling your 'dream'
* Why having a brand and a mission statement is so important
And much more!
In short, you'll learn how to build a brand that people are passionate about, how to attract and profile the right kinds of leads to your site, and how to manage those leads so you know exactly who to sell to and when.
The result is a much more engaged and targeted user base and a LOT more sales for you!
Make sure your claim your copy right now while it's hot!
Related Posts: