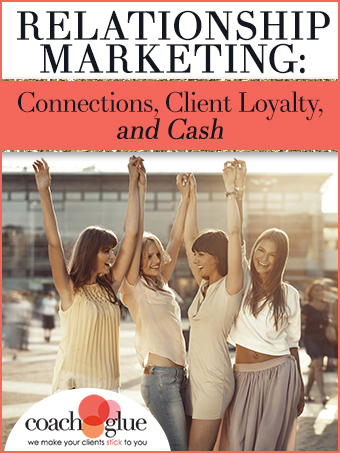 The old days of marketing are long gone. Today, people don't want to be "sold to" and feel like just another number. They want to connect and feel like part of a community. They want to know, like, and trust you before they buy from you. Wouldn't you agree?
That is why THIS done-for-you package is so powerful. Take the material and simply put together an awesome program/bootcamp/e-course for your clients that they'll love!
Altogether, you receive 4 Training Modules + 4 Fast Action Plan Worksheets & Exercises + 4 Program Accelerator Checklists + 4 Sets of PowerPoint Slides in "Relationship Marketing".
• Module 1: Build Strong Relationships and the Money Will Flow
• Module 2: Step Out of Your Comfort Zone to Make Powerful Connections
• Module 3: Turning Clients into Raving Fans
• Module 4: Maximize Your Cash Flow
You can head over to the promotion page and discover what content the 4 modules consist of.
The important thing to note is all the hard work has been done for you! You don't have to invest hours and hours of your own time into developing a workshop program, and you don't have to pay thousands of dollars to hire people to help you. Investing in CoachGlue's low-cost coaching workshop material saves a ton of time, energy and money!
Now there are 3 ways to get this new workshop:
1. Grab it for a discounted price at $77 (valid until October 6th). You'll get everything you see listed above. Use coupon code '220' on checkout.
2. Better Value: Get a spot in CoachGlue's All Access Monthly program for $97/mth. You'll get this workshop AND 3 new packages automatically added to your account every month!
3. Best Value: Accessing the Annual VIP Program gets you just about everything in CoachGlue's ENTIRE site at a huge discount PLUS everything they release for the next year. If you plan on grabbing a few things here and there, this will most likely save you a LOT of money over the course of the year.
Thank YOU and I hope you enjoy the rest of your day!