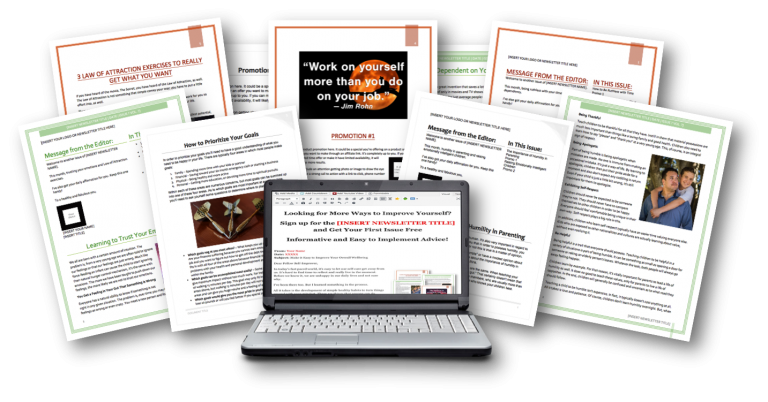 If you're in the self-improvement niche, here is an amazing time saver for you.
Get a month's worth of ready-to-publish newsletters for under $15 but for a short time only.
Alice Seba and her ListMagnets team have prepared a package that comes with 4 complete, ready-to-publish newsletters, extra articles and a ready-to-paste opt-in page copy.
Here are a few ideas for using the content.
• Use the newsletter as highly-targeted lead magnet to grow your list. You've got the ready-to-paste opt-in copy included in the package, making it easy for you to make a hard-to-resist opt-in offer to get more subscribers.
• Monetize the newsletter with your product promotions. The newsletter include space for your product promotions. Warm them up with great content and get your offer out there.
• Use the extra articles for blog posts. There's a lot of content in this package and plenty left over to load up your blog and drive more people to your newsletter sign up.
• Add the newsletters to your membership site. If you've got a membership site, this newsletter is a great value-add to your membership. Send it out once per month by email or even print out and mail it.
• Use the newsletters a product bonus. Beef up your current product offers by adding a newsletter issue as a product bonus.
• Develop it into a product for sale. Whether you deliver via email or snail mail, these newsletters make for great content your customers are willing to pay for.
Just a few ideas to get you going, but now it's your turn to run with them. Get your "Self-Improvement Niche Ready-to-Go Newsletters Package" + PLR now!