If you publish food and/or healthy content and you're looking for a fast way to grow your list or get more content and products out to your customers, look no further. Here's a ready-made content package, complete with private label rights, your future subscribers and customers won't be able wait to get their hands on.
It comes from one of my favorite PLR providers, Alice Seba at ListMagnets, but it's on for a very special price for a short time only.
Everyone gives out a free report for an opt-in, but why not go a step further? This package includes 10 complete report each with an e-cover set, plus a bunch of other awesome content you can share on your blog, social media and more.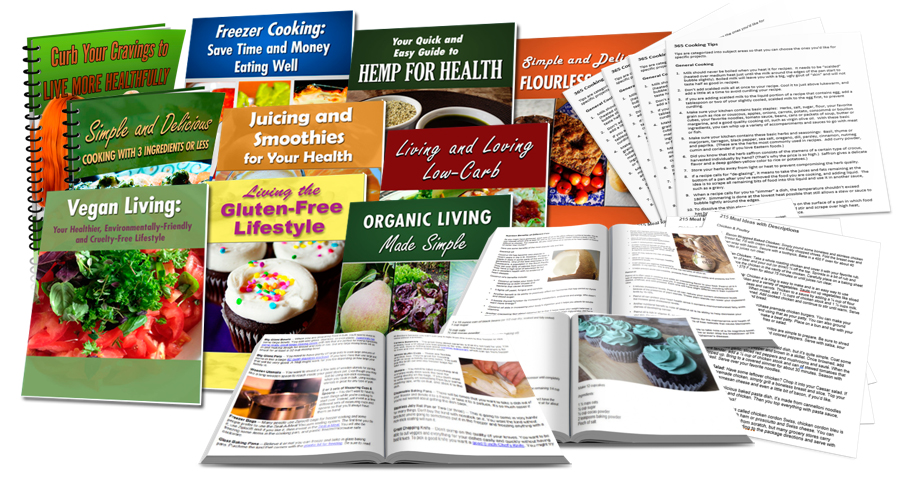 Here's what's inside this high-value Food Content Mega Pack:
• 10 Ready-to-Publish Reports on Hot Food Topics. Just brand them and monetize them how you'd like.
Simple and Delicious Cooking with 3 Ingredients or Less (3,892 words/14 images)
Curb Your Cravings to Live More Healthfully (3,128 words/7 images)
Simple and Delicious Flourless Baking (1,892 words/7 images)
Freezer Cooking: Save Time and Money Eating Well (3,455 words/10 images)
Living the Gluten-Free Lifestyle (3,801 words/12 images)
Juicing and Smoothies for Your Health (4,398 words/20 images)
Your Quick and Easy Guide to Hemp and Health (3,276 words/13 images)
Living and Loving Low Carb (3,654 words/12 images)
Organic Living Made Simple (2,641 words/8 images)
Vegan Living: Your Healthier, Environmentally-Friendly and Cruelty-Free Lifestyle (3,686 words/13 images)
• 10 E-Cover Sets (jpg. and .psd) to give your reports a professional look. Each comes a flat cover and 4 3-D versions.
• 215 Meal Ideas to use in blog posts, on social media, automated e-mails and more (18 pages/8,239 words)
• 365 Cooking Tips for your content marketing, all 140 characters or under, so you can use them on Twitter too (29 pages/13,120 words)
And like I said you can grab it all at one low price, but for a very short time only.