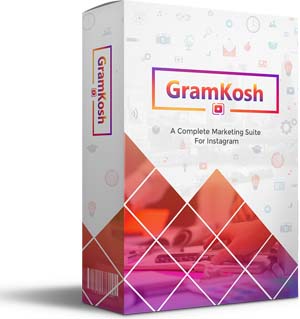 Instagram recently introduced Stories, which are short images and videos which remain on top of Instagram Feed for 24 hours…
People are watching this content 3 times as opposed to anything else on Instagram, which makes this the ultimate profit machine…
Introducing GramKosh—A piece of technology which tuns Instagram Stories into a profit churning machine. Here's what it can do:
• First Software to Post Instagram Stories directly from Desktop
• First one to Schedule as many Instagram stories directly from Desktop
• Post & Schedule Instagram Images directly from Desktop
• Post & Schedule Instagram Videos directly from Desktop
• 'Live' Preview inside Dashboard Before Posting
• Photoshop like image editor to edit your Instagram stories & posts (Crop, Text, Drawing, Filters, Shapes, Stickers, Colors, Resize, Rotate)
• Emoji Integration
• Instagram Synced Affiliate Stores & Sites, which have same look and feel as your brand's Instagram feed but IMAGES WOULD BE CLICKABLE
• 3 Premium Custom Feed Layouts
• One-Click Instagram Image import to Custom Feed
• Ability to put Optional Headline or Description and Call-To-Action
• GramKosh Insta Site Analytics
• 30 Hashtags Direct Post & Schedule as First Comment
This redefines the way Instagram Marketing is done in every manner. Get your hands on this game-changing technology.
Related Posts: