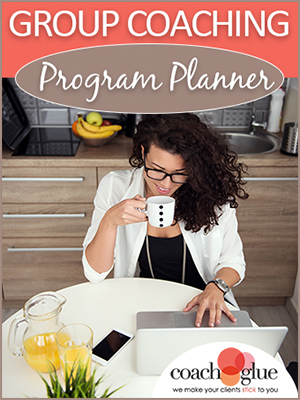 Ever wanted to run a coaching program but don't know where to start? By offering group coaching programs instead of 1-to-1, you can work less, impact more people, and earn more money in the same amount of time!
The CoachGlue ladies have released the "Group Coaching Program Planner" with which you can edit, put your business logo and name on, and sell or give away to your clients/customers/members.
The Step-by-Step Planner Covers:
Step 1: Define Your Program Focus
Exercise: Brainstorm Your Group Coaching Ideas
Step 2: Identify Your Ideal Client
Exercise: Define Your Ideal Client
Step 3: Outline Your Training
Exercise: Brainstorm Your Ideal Client's Biggest Pain Points
Exercise: Outline and Prioritize the Solutions
Step 4: Determine Your Format
Exercise: Decide on Your Program Format
Step 5: Beef it Up with Valuable Bonus Training
Exercise: Decide on Supplemental Training and Potential Instructors
Step 6: Create Downloadables
Exercise: Decide on Downloadable Content
Step 7: Add an Interactive Facebook Group
Exercise: Draft Your Group Rules
Exercise: Create Your Group Themes
Step 8: Plan Your Launch
Exercise: Create Your VIP Waitlist
Exercise: Reach Out to JV Partners
What can you do with this planner? Here are a few ideas:
• Use it to plan out your own group coaching program to add an additional income stream in 2017, or to grow and streamline your existing program.
• Work through this planner with your clients as part of a course to help them to start their own group coaching programs.
• Create a lead generator from one of the exercises.
• Use this planner to teach your client HOW to create their own group coaching program, but then offer a "done for you" service where you or your team does it for them.
49% discount is good until December 28th!
Related Posts: