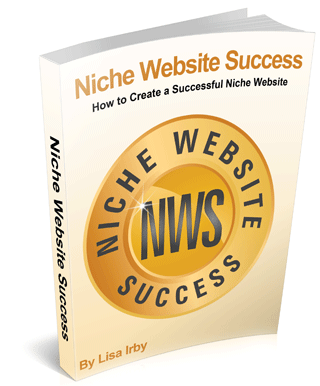 Are you looking for a solid end-to-end blueprint for developing and promoting a niche website, regardless of the niche you're in? "Niche Website Success" is for you! Lisa Irby has detailed all the important steps for getting a website up and running towards success, in an easy-to-understand manner.
There are no tricks that will get you noticed faster, but then lose ranking and client ratings a few months down the Internet road. Her leads and procedures, will serve you well, over and again for years to come. Her unique advise is; hard work and diligence, equals success and a profitable website.
"Niche Website Success" comes with a workbook, with which you can write your own notes while reading through the main ebook. This is a handy feature to reference back to, as you develop your successful website. The guiding questions in the workbook will save you many hours of work and anguish, as you lay the foundation for your profitable site.
Other features:
* Google Keyword Tools (GAKT)
* How to monetize a site for success
* Become an authority on a personal subject
* You don
Related Posts: