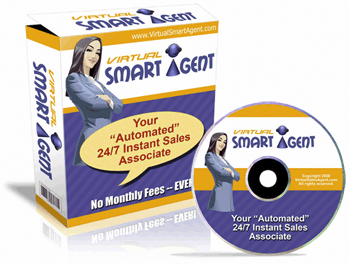 I'm sure you have seen those virtual agents that try to "pull you back" and engage you in some kind of sales support conversation as you leave a sales page?
And while you may hate these 'virtual' agents you have to wonder why they seem to be popping up everywhere.
Well it's quite simple really, because they generate sales.
According to popular estimates, virtual agents can account for an extra 50% and up to a staggering 80% in sales every month.
Without the help of these agents, even if you have a 'good' converting sales page, you probably have 95 out of 100 visitors leaving your site without taking any action.
And out of the visitors who DO decide to purchase your product, you'll still lose a lot of possible sales at the last minute. Studies have shown that nearly 60% of potential buyers will abandon a website when they reach the shopping cart or order form.
You can easily prevent website abandonment by up to 80% in the next 2 weeks.
That's exactly what Virtual Smart Agent can do for you, and Dave Guindon, the product designer, has done plenty of tests to prove it.
But it even gets MUCH better!
As if your Virtual Smart Agent isn't already going to be "Working" hard enough for you…
It will build your opt-in list too!
Plus, the virtual agent can even automatically follow-up with your website visitors and close the sale after the chat has been closed!
I highly recommend you watch the "virtual smart agent" in action, and invest in it at the current lowest possible price before it rises by another $30 on April 11th!