You Are Here: Home > Articles > Working Relationships > Article

Discover 13 Strategies Of The Effective Business Networker!
by Nelson Tan
In the corporate world, the majority of working professionals have technical expertise and competencies, but much less of them have sharp skills in business communication, an overarching term which sales communication and business networking come under. I heard many years ago that the richest men and women in the world, like Bill Gates for example, do not hide in their offices and apply their technical skills most of the time. So what do they do? They go out into the world and meet people: build up their business networks, give and get referrals, arrange joint ventures, seek expansion through opportunities and ideas etc.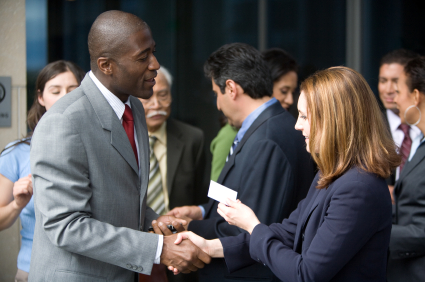 We should not blame ourselves for being late bloomers at business communication. We were not brought up and educated in it. Technical skills come first because it is fundamental to the production of goods and services, yet the rule of thumb in business is the salespeople who bring in the most customers get the most commissions.
Since you have come this far in reading this post, at least you can now begin to appreciate the long-term importance of business communication. Today's main topic is about business networking and how to go about meeting people productively in a networking event.
Like everything else in life, we may freeze in fear at trying out new stuff and gaining new experiences but with habitual practice, we will settle down in our hearts and minds and apply new skills as in a normal routine.
As a set of guidelines, here are what you can do before, during and after a networking event.
Before:
1) Network with purpose: Define what you want to get out of it. This will help to filter out the unsuitable networking events or environments. Set a goal like how many people are you going to speak to, or how many business cards to collect. Prepare your positioning statement.
2) Research background details about the networking occasion: Who are the hosts? Who are the sponsors? What is the main theme of the event? Who are the guests? Who are the main speakers?
3) Have a few "conversation starter" lines:
a) Compliment other person's fashion sense
b) Talk about the latest development or trend with reference to the networking event
c) "What brings you here concerning [event theme]?"
d) "Let me guess: you're here because..."
e) Quote something from the news because it's current.
f) Straightforward approach: Step up to someone who is not deep in conversation and offer a warm smile and a handshake. I say my name and business and ask them to share what they do. I completely focus on what they say because I have found this to be the best ice breaker. Listening and asking clarifying questions helps that person to know that you are really intrigued, not just getting past the formalities to promote your own services. They will typically warm up to you much more quickly.
During:
1) The conversation is always about the other person.
2) If you want to show yourself as helpful, try to steer the conversation in a direction where the person begins to reveal a challenge, so you can offer a useful tip and tell him you will follow-up further after the event.
3) Even if the conversation is not going in a way you'd prefer, try to be interested and always look forward to the possibility of discovering new things or ideas from what the other person says.
4) Find common ground or interest.
5) Know when to exit thoughtfully. Say, "I really enjoyed talking to you about today's meeting. I have your card and I'll be in touch with you this week so we can discuss it further."
After:
1) Send a quick follow-up e-mail: Something like, "It was so nice to meet you at the Chamber of Commerce event last night! Best of luck with your son's baseball championship this weekend!"
If you'd like to have a follow-up, you can say that as well, just add, "We started to talk about the synergies we have in our prospecting and I'd love to continue that conversation. How does your schedule look next Thursday to grab coffee or lunch?" If some people make a strong case for follow-up, call them instead.
But the first line will buy you some time so you can think through a more thorough follow-up statement.
2) Try to search for the person's name in LinkedIn and connect. Later impress them with well wishes on their birthdays and work anniversaries.
3) Send a re-connect e-mail: After 3 weeks or longer, reach out to catch up, maybe set up another meeting, or send something that might be valuable, like an invite to another event, a great article or an introduction. Include some information about how you met and what you've discussed in the notes.
Bonus tips:
1) Buy yourself a new dress or a new business shirt and pair of pants. Polish your shoes. Your new set of clothes projects a certain freshness or crispness to your demeanour, and you will immediately stand out in the crowd.
2) Be mindful of your posture and step up your energy level.
The key to successful networking is to remember that you're working on building real, deep relationships with your professional contacts.
Your network won't do you any good if it's full of people who you don't know very well; cultivating both the depth and width of your network is extremely important.
"Networking is more about farming than it is about hunting," says Dr. Ivan Misner, Founder and Chairman of Business Network International. "It's not just about who you know—it's about how well you know them."
Are you ready to go out, network and meet new friends? Enjoy the finger food too!
Nelson Tan is an Inbound Marketing consultant at iSmart Communications, an integrated marketing communications agency serving the Asia-Pacific region.
Share this article:
comments powered by
Get free news, updates, strategies and special offers from Internet Mastery Center delivered to your inbox. Simply

fill in your name and e-mail address

to download your FREE e-book in the right sidebar. It only takes a MINUTE!
For top stories in Internet Marketing, follow us on Twitter at @webmastery.
Recommendations

Discover how to make your first $10,000 dollars per month and beyond with list building, e-mail marketing and affiliate marketing.

Discover the secret hacks and tricks used to generate no-cost laser-targeted traffic and generate $100+/day in ANY NICHE!

Latest Blog Posts