You Are Here: Home > Articles > Site Development > Article

How To Setup OTO Pages Using Delavo
by Nelson Tan
By now, setting up one-time offers has become a common practice in the monetization of subscribers. OTO pages provide the opportunity for marketers to play up the 'scarcity' effect which normal sales pages can't, because once subscribers click to the next page looking for their free downloads, they would miss their offer forever. In a sense, the 'scarcity' effect works partly because subscribers are not paying full attention to the product and they are being forced to mentally and emotionally realign themselves to a one-off sales condition.
Structure-wise, subscription sites are constructed as follows in the most basic sense:
An OTO page is typically characterized by the opening header and closing footer:

header

footer
Here's your "stop sign" graphic: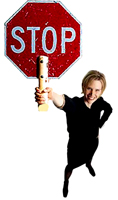 The key philosophy to making OTOs work with Delavo is to include the javascript codes required in all the pages that participate to your affiliate program. That way, regardless of how a visitor moves from page to page, JVManager is able to track the visitor's movement to the affiliate's credit to the point where the order link is called for.
Create a separate package since an opt-in page is involved, and set up your OTO product as you normally would with other products. The difference is you put in your opt-in page URL under "Homepage".
In your opt-in page AND OTO page, add <script language=javascript src="http://www.domainname.com/jvm-supl-tk/jvm_aff.js"></script> immediately after the <body> tag.
Next, you need to parse your order link for the OTO page. Grab your package's order link and parse it with JVM Buddy #2. Copy-and-paste the script code into the ordering segment of your OTO page. That's about it! Upload both pages (not forgetting your download page) into your server.
You can test for cookie tracking by registering for an affiliate account and grab your affiliate link, which will point to the opt-in page because you defined it under "Homepage". Subscribe through your page, making sure you are brought to the OTO page, then move your cursor over the order link. Success is when you can see your affiliate ID at the end of the order URL as signified by "aff_id=xxx". If you want to be doubly sure, get a friend to create his own affiliate account and test it for you.
You're done! Now it works just as good as the $7 script or Butterfly Marketing script. Of course, with Delavo, you can do much more with a variety of promotional methods. Just add creativity.
Nelson Tan is the webmaster behind Internet Mastery Center where you can download $347 worth of FREE Internet Marketing gifts!
Share this article:
comments powered by
Get free news, updates, strategies and special offers from Internet Mastery Center delivered to your inbox. Simply

fill in your name and e-mail address

to download your FREE e-book in the right sidebar. It only takes a MINUTE!
For top stories in Internet Marketing, follow us on Twitter at @webmastery.
Recommendations

Discover how to make your first $10,000 dollars per month and beyond with list building, e-mail marketing and affiliate marketing.

Discover the secret hacks and tricks used to generate no-cost laser-targeted traffic and generate $100+/day in ANY NICHE!

Latest Blog Posts